Review: Fortune Favors Lady Nikuko
Review: Fortune Favors Lady Nikuko
May 6, 2023
In Fortune Favors Lady Nikuko (Jap. Gyokō no Nikuko-chan ) we experience an emotional roller coaster ride full of impressive images. Easygoing mother Nikuko and her thoughtful 11-year-old daughter Kikuko have overcome numerous tragedies together, creating an inseparable bond. Ayumu Watanabe's work made its debut in Japan in 2021. It took a while, but on December 1, 2022, peppermint anime brought the anime film into our living rooms. John Schwab
ATTENTION:

Any statements in this review only reflect the personal opinion of the author and not (!) those of ITweakIT and its partners.
---
Totoro?
Nikuko is just herself. So it happens that Kikuko sometimes wakes up in the morning and thinks he has a Totoro in the house instead of a mother. A similar situation arises at the bus stop: while Kikuko waits under her umbrella, her overweight mother scratches her poncho next to her. Inevitably, Kikuko thinks about Totoro again. On the one hand this is humorous, on the other hand young Kikuko is aware of the risks of her mother being overweight and worries about her accordingly.
Nikuko and Kikuko live together on a small ship in a port city. While Nikuko is gullible and boisterous, Kikuko is cautious and a little reserved. Both look back on a turbulent past, as Nikuko has no knack for men due to her gullibility and big heart. Often exploited and left behind, they are now reestablishing themselves in their small port town. Kikuko also seems to be slowly arriving and experiences many adventures together with her classmate Ninomiya. But with whom she experiences a lot more is her mother, who has an apparently insatiable hunger and goes through life carefree and unrestrained. Of course, this is not always easy and attracts a lot of attention, which Kikuko sometimes finds embarrassing. Despite this, the two share a seemingly inseparable bond that is soon put to the test.
image and animation
Fortune Favors Lady Nikuko was directed by Ayumu Watanabe and written by Satomi Ooshima at Studio 4°C. It was based on the 2014 novel by Kanako Nishi. The film celebrated its big debut on June 11, 2021 in Japan. The road to Germany was long, because the strip was initially announced for the AKIBA PASS Festival 2022, which was canceled at short notice. Nevertheless, peppermint anime released the work on December 1, 2022 on both DVD and Blu-ray. Of course, both the German and the Japanese language versions are included.
Fortune Favors Lady Nikuko impresses with varied and extremely coherent pictures. Strong colors meet detailed and playful sceneries, the landscape images appear tangibly close and fill the screen. Character design and the rest of the image consistently show a balance of curved and bold lines, which reflects well the changing relationships and events in the anime.
One point of criticism is one of the last scenes, which looks back in time. A stronger reference to the previous style would have been desirable here in order to maintain the credibility of the story.
Nevertheless, the picture is incredibly beautiful to look at, honest and not fake. Scenes flow seamlessly into each other, and the painterly depiction of objects and figures gives the picture a very natural appearance. Finally, I would like to address the references to Ghibli's My Neighbor Totoro , which I like very much and have been implemented harmoniously and respectfully.
German translation and music
The German soundtrack was realized by @alpha postproduction under the dialogue direction and the dialogue book by Marie-Jeanne Widera. The Munich dubbing studio awarded a total of 25 speaking roles for the film.
The synchronization was excellent. Both in the Japanese and in the German version, the characters were implemented excellently by the respective speakers. Anna Ewelina shines as the main character Kikuko with a pleasant voice, which is also used for the stories. In contrast to this is the voice of Carolin Hartmann as Nikuko.
Similar to the picture, there is a beautiful dynamic of the voices that clearly stand out from each other without being obtrusive to the viewer. However, what is lost here is the dialect used in Japanese, which would probably have been difficult to implement. Nevertheless, I didn't notice this negatively during the film, since I wasn't aware of the dialect due to my lack of knowledge of Japanese. Both settings are recommended.
The music has everything – from quiet passages to exciting pieces that stand out. The introduction impresses with present and atmospheric trumpets, while there are also quieter scenes accompanied by piano. The musical accompaniment fits the individual scenes perfectly and doesn't try to get more out of it unnecessarily. She ensures the scenes are fully immersed, making the whole film an engaging and inviting experience.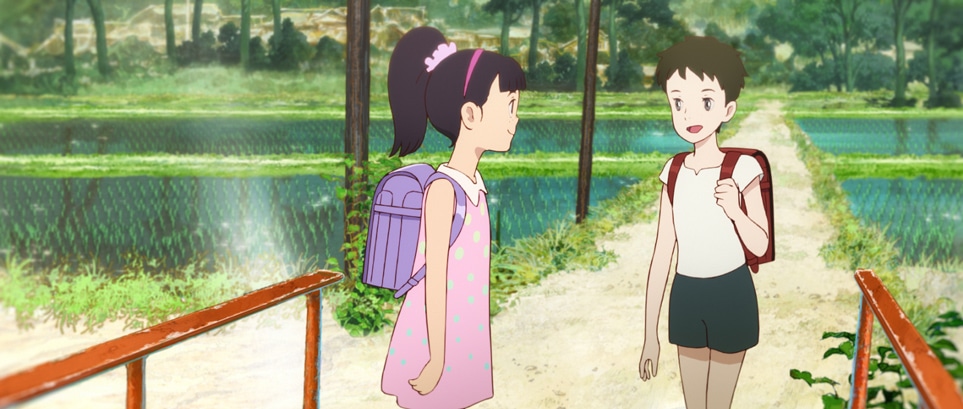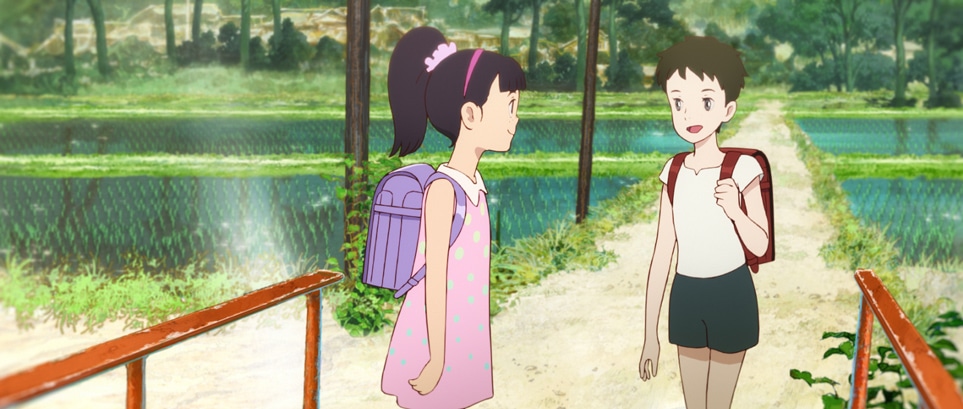 Particularly noteworthy is the effort that was invested in the background noise – both in Japanese and in German. This point was included in the musical accompaniment because it is a mixed form. On the one hand there are the normal ambient noises and on the other animal sounds, which in contrast to many other films or anime were partly set to music. An ingenious idea that creates a very special experience.
Conclusion
In Fortune Favors Lady Nikuko we learn about life, dealing with problems and questions, and the importance of family. The film conveys this in its own charming way. The visual implementation alone, with curved and distinctive lines and many beautiful details, speaks for itself. The strong colors do not appear overloaded with the painterly animation, but rather relaxing. This is especially evident in scenes where we explore Kikuko's world together.
In the end, the points mentioned apply to every aspect, because everywhere there is a precise balance between tension and understanding. Character development happens at a comfortable pace without being overwhelming, as does the story itself. Fortune Favors Lady Nikuko is a family film that offers both humor and seriousness. It conveys its message in a way that is as easy and beautiful as it is to look at.
short conclusion
Fortune Favors Lady Nikuko is an extraordinary film – as honest and heartfelt as its characters. You immediately take it to heart and enjoy the successful atmosphere.
Pictures: © 2021 Kanako Nishi・GENTOSHA, MOVIZ/ "Fortune Favors Lady Nikuko" ProductionCommittee